Street Tree Trimming and Removal:
Street Tree Trimming and Removal Anne Arundel County is authorized by the Maryland Department of Natural Resources (DNR) to remove or trim hazardous trees that occupy County-maintained roadside property. State law refers to these trees as "street trees".
More information on State tree laws can be found at http://www.dnr.state.md.us/forests/programapps/newrtlaw.asp. In addition to street tree trimming or removal, resulting tree stumps may also be removed from county-maintained roadside property if the County determines the stump interferes with other work such as sidewalk replacement. In many cases the stump may be allowed to remain on County-maintained roadside property following removal of a tree. 
Trees on Private Property:
Anne Arundel County does not entertain requests for trimming or removal of trees from private property. Such work is the personal responsibility of each property owner. When the Department determines that trees on private property encroach upon the public right-of-way, Anne Arundel County will notify the property owner of its responsibility to take corrective action.
NOTE: The County reserves its rights as the property owner of the roadside right-of-way to cut back encroaching limbs of an adjoining neighbor's tree to the right-of-way boundary if such work is required to make visible traffic signs, signals, or other traffic devices upon the order of the Traffic Engineering Division.
Trees That Block County Roads:
Trees that fall into a County-maintained roadway will be moved from the traveled portion of the roadway by County forces as quickly as possible. Resulting tree debris will be placed on the public or private property from which the tree originated. In the case of private property, the owner is responsible for proper disposal of the debris.
Non-Hazardous (Nuisance) Tree Issues:
The County will not remove street trees unless a hazard is present. Trees that drop berries or acorns onto parked cars, trees with nesting (or perched) birds and associated bird droppings, or trees with unappealing appearance or scent are not candidates for removal.

 
Tree Planting or Replacement:

Anne Arundel County does not have a street tree replacement program. Should individuals or communities desire to plant new street trees or replace street trees that have been removed, they should contact the Maryland Department of Natural Resources Forest Services.
State law gives the adjacent property owner the right to apply for a Street Tree Project Permit should a resident wish to replace or plant a new street tree at the resident's cost. To apply for a permit, please visit the Maryland Department of Natural Resources web site at 
http://dnr.maryland.gov/forests/Pages/programapps/newrtlaw.aspx
. Permit applications for projects within Anne Arundel County should be mailed to:
Maryland Department of Natural Resources Forest Service
8023 Long Hill Road
Pasadena, MD 21122
If a permit is issued by DNR, the permittee shall provide a copy of the permit to the County's Right-of-Way Management Section via facsimile at 410-222-4504.
Additionally, in order to assure adequate visibility of signs and vehicles, and to prevent the blocking of streetlights, street trees shall not be placed:
Within 100 feet of the face of a STOP or YIELD sign
Within 50 feet of the face of any other street sign
Within 25 feet of a streetlight

Within 150 feet of the intersection to the left or within 100 feet of the intersection to the right along a cross street at an intersection controlled by a STOP or YIELD sign.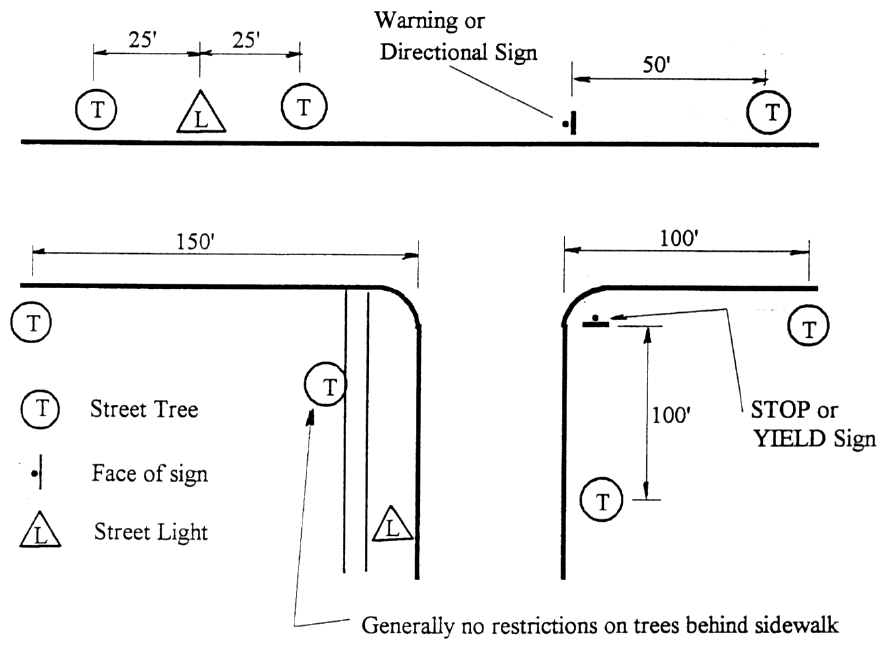 ---
Submit a Request
To request investigation of a suspected tree hazard within a County-maintained roadside right-of-way, please contact the appropriate Road District.  A representative will investigate your concern and respond to you within one week to advise you of an approximate schedule for any needed work.
Lookup up the Road District where the issue is located using the tool below for contact information.