Protecting the Chesapeake Bay and its tributaries from the impacts of our road network is one of our highest priorities. This activity helps us to accomplish this goal by completing necessary ditch or curb and gutter cleaning work on County-maintained property, thereby reducing sediment and debris traveling to the bay during periods of inclement weather. Citizens can partner with us in this effort by never raking leaves or any other type of debris into the curbline or roadside drainage ditches. Keeping ditches and curblines free of debris also protects the citizen's investment in our infrastructure by insuring that these structures do not overflow and cause stormwater to pond on roadways causing safety issues and pavement damage. 
The County is responsible for maintenance of over 357 miles of ditches and 1,390 miles of curbline. Work is performed either by hand or machine, depending on the accessibility and local conditions. This activity consists of cleaning and reshaping roadside ditches, periodically restoring the grade of ditches using a hydraulic excavator, backhoe, or compact excavator, and reshaping front and back slopes of ditches, where necessary. Debris removed from ditches is hauled away and discarded at a County waste disposal site.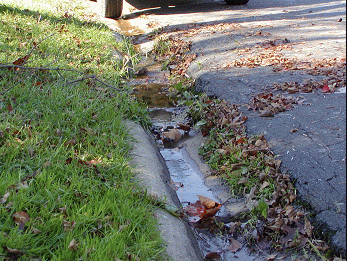 ---
Submit a Request
Requests for ditch cleaning should be directed to the appropriate 
road district
.  A supervisor will investigate your concern and respond to you within one week (one day if it is a hazard) to advise you of a schedule for any needed work.
Lookup up the Road District where the issue is located using the tool below for contact information.