Protecting the Chesapeake Bay and its tributaries is one of our highest priorities. This activity helps us to accomplish this goal by completing necessary repairs to storm drain inlets and manholes on County-maintained property, thereby reducing sediment traveling to the bay. This work also protects the citizen's investment in our infrastructure by preventing deterioration of the road network due to consistent ponding on streets. In addition, road shoulders and side slopes are protected from erosion caused by the flow of uncontrolled water. The County is responsible for maintenance of approximately 25,850 storm drain inlets and 12,300 manhole covers. Work is generally scheduled throughout the year; however, if a safety hazard exists, work is scheduled when detected.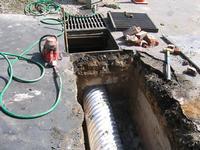 ---
Submit a Request
Requests for repair of storm drain inlets should be directed to the appropriate Road District. Road districts are open from 7:00 a.m. to 3:30 p.m., Monday through Friday. A supervisor will investigate your concern and respond to you within one week (one day if it is a hazard) to advise you of a schedule for any needed work. 
Lookup up the Road District where the issue is located using the tool below for contact information.