Protecting the Chesapeake Bay and its tributaries is one of our highest priorities. This activity helps us to accomplish this goal by completing necessary drainage construction work on County-maintained property, thereby controlling the flow of water and sediment into the bay. Work includes construction of new drainage systems including inlets, pipes headwalls, and/or placement of outfall protection. Occasionally, the work might also include replacement of major components of existing drainage systems, such as catch basins or gabion baskets.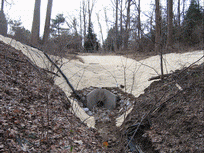 ---
Submit a Request
Requests for the resolution of drainage problems should be directed to the appropriate road district.  A supervisor will investigate your concern and respond to you within one week (one day if it is a hazard) to advise you of a schedule for any needed work.
Lookup up the Road District where the issue is located using the tool below for contact information.