Protecting the Chesapeake Bay and its tributaries is one of our highest priorities. To reduce water pollution and prevent erosion, we place material such as topsoil, jute mats, grass seed, rip rap, etc. by hand or by machine on County-maintained property. Work is scheduled as needed by the supervisor's observation or at the request of a citizen.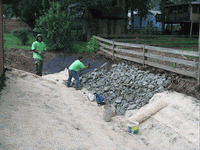 ---
Submit a Request
Requests for erosion control on County-maintained property can be directed to the appropriate road district.  A supervisor will investigate your concern and respond to you within one week (one day if it is a hazard) to advise you of a schedule for any needed work.
Lookup up the Road District where the issue is located using the tool below for contact information.