Protecting the Chesapeake Bay and its tributaries is one of our highest priorities. This activity helps us to accomplish this goal by completing necessary repairs to County-owned storm drain pipes, thereby reducing sediment traveling to the bay. This work also protects the citizen's investment in our infrastructure by preventing the undermining of roadways due to a failing pipe.
The County road network includes approximately 800 miles of pipe. Work in this activity includes the repair or replacement of pipes, depending on the degree of deterioration. This activity is scheduled throughout the year, subject to resource availability. However, in the presence of a safety hazard, work is scheduled when detected.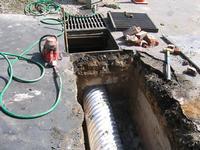 ---
Submit a Request
Requests for repair of storm drain pipes should be directed to the appropriate road district.  A supervisor will investigate your concern and respond to you within one week (one day if it is a hazard) to advise you of a schedule for any needed work.
Lookup up the Road District where the issue is located using the tool below for contact information.