Our neighborhood streets are relatively clean because of the work of conscientious residents who assist us by keeping the areas in front of their homes free of litter and debris. Residential streets are not included in our program for routine street sweeping.

Main thoroughfares, business districts and industrial areas are scheduled for street sweeping twice (x2) a month. We target arterial, major collector and roads in business districts for routine sweeping. This allows us to capture the most debris for each available hour of street sweeping effort.
Inclement weather, equipment maintenance requirements and associated downtime, and responses to road cleanup emergencies can disrupt our planned work. We thank our customers for their understanding.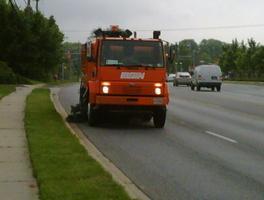 ---
Lookup up the Road District where the issue is located using the tool below for contact information.