About the Park
Before venturing into the park visit the Kinder Farm Park Visitor Center. View farming artifacts from the 1930s, including a tobacco press, tools used to harvest tobacco and more. Reserve Harvest Hall meeting room which holds 100 people for a seated event and 200 for a standing function. The restored Kinder family farmhouse has returned to a condition similar to when it was built in 1925.   
    
Kinder Farm Park offers picnic tables and grills located throughout the park, two large outdoor pavilions available for rental, and a large playground and tot-lot ideal for children of all ages. The park has a 2.4 mile paved perimeter trail and several miles of natural trails.
Kinder Farm Park developed an agricultural history program and working farm that shows past and present agricultural practices of Anne Arundel County. Farm animals at the park are owned and cared for by the Kinder Farm Park 4-H Livestock Club and The Friends Farm Park FLEP Program (Farm and Livestock Education Program). These include chickens, turkeys, geese, cows pigs, goats and sheep. We ask that you not pet or feed any of the animals.
  
---
General Information
Kinder Farm Park is open 7 days a week from 7:00 a.m. to dusk. 
The Park is closed on Thanksgiving Day and Christmas Day.
Visitor Center Office hours are 9:00 a.m. - 4:00 p.m. Monday through Friday and 10:00 a.m. - 3:00 p.m. Saturday and Sunday. The Visitor Center is closed on holidays.
Daily Entry Fees
Daily Pass:
$6.00 per vehicle
Daily Pass - Physically Challenged:
$5.00 per vehicle (MVA handicapped tags or hanging permit required)
Daily Pass - Service Connected: 
Free per vehicle (Military Individuals, Veterans and their Families - Services connected I.D. required)
Annual Passes
Annual Pass - AACo Resident:
$30.00
Annual Pass - Non-County Resident:
$40.00
Senior Pass - 60 and up:
$40.00
Daily Parking Fee - Buses (schools only):
$30.00 (School buses only free with pavilion rental)
Guildelines, rules and regulations for special events for non-profit organizations.
---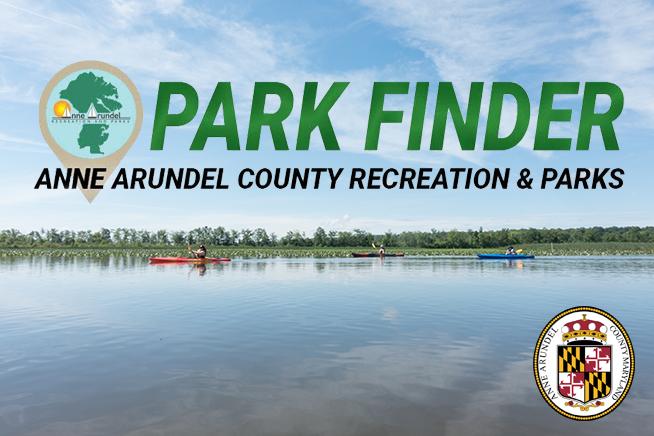 Discover and Experience Anne Arundel County!
Discover regional and commpunity parks, trails, natural areas, historic sites and water access. Find parks by name or by type of activity or parks near your home.