Large Plastic Items
Large plastic items such as children's toys and playsets can be recycled. The items should be placed next to your recycling container(s) with other paper, plastic, metal and glass recyclables on your collection day.
---
Large Metal Items and Refrigerated Appliances
Large metal items and appliances, like swing sets, refrigerators, dishwashers (metal), and lawn mowers, can be recycled.  Schedule a collection using one of the methods listed below.  Please do not place metal items at the curb on your weekly curbside collection day. Metal items that will fit in your vehicle should be brought to one of our recycling centers for recycling.
Items must be ready at the curb by 6 a.m. on the scheduled collection day.
Cancellations must be received 48-hours prior to the scheduled collection date.
Only those items specifically requested for collection will be picked up.
Be sure items are not obstructed by vehicles, fences, or other structures.
Call (410) 222-6100, Monday through Friday, between 7:30 a.m. and 4 p.m. to schedule large metal item collection.
Anne Arundel County employees will provide collection services for large metal items and appliances using a truck similar to the one
pictured in the photograph below. If you observe a different vehicle collecting large metal items at your home or in your community, please report it to us at 
(410) 222-6100
. Information about any such observations, including vehicle description, markings or license tag information, and any other vehicle identifier would be helpful to us.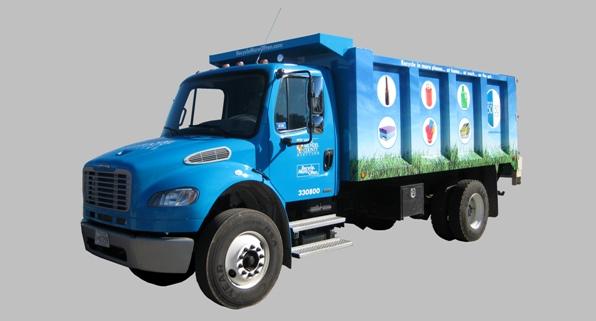 ---
Large Trash Items
Sofas, mattresses, tables, dishwashers (plastic), and rolls of carpet are typical trash examples that do not fit into containers. The items should be placed next to your trash container(s) on your collection day. Please set out only three items at a time on your weekly collection day. Do not place wood and lumber or building and construction materials for collection as bulky trash. These items are not collected curbside.
Please consider donating your useable items to a charitable organization. Some organizations offer free collection for items in good condition. View the 
Reduce & Reuse
 page for details.
---