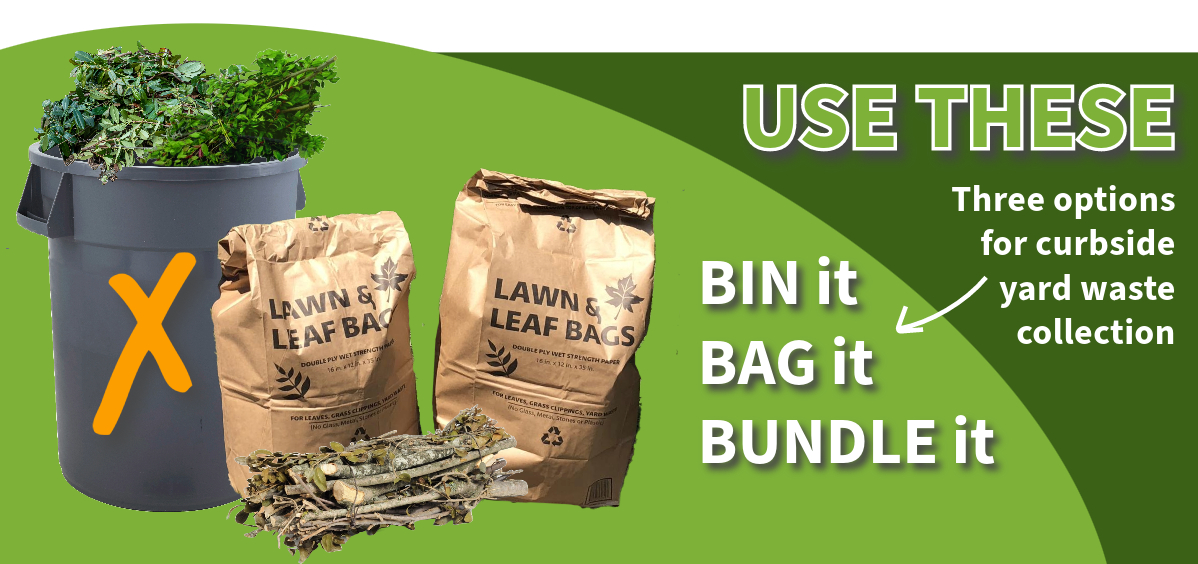 For leaves, grass, brush and branches, you can use biodegradable paper yard waste bags or a reusable container made of metal or rigid plastic, equipped with handles, and marked with an "X" on all sides. Paper yard waste bags are available for purchase in many big-box, home improvement, and hardware stores as well as through online retailers.
Items not accepted as yard waste include: tree stumps, food waste, bamboo, flower pots or tray, sawdust, dirt, sod, lumber, treated wood, pallets, and gumballs (Sweetgum seed pods).
Do not use plastic bags for yard waste, as of January 3, 2017. Reusable containers must be made of metal or rigid plastic, equipped with handles, and marked with an "X" on all sides. Each "X" must be large enough to be visible to the collection crew. This will ensure that they know it is yard waste and not trash.
Do not place yard waste in a reusable fabric bag or County issued 35, 65, or 95-gallon yellow container. Non-rigid, lightweight containers, including fabric, plastic, collapsible mesh, or similar reusable bags, are not an acceptable container for yard waste for the following reasons:

Difficult to recognize at the curb as a yard waste container
Difficult to completely empty; twigs, sticks, small branches, and similar materials tend to become tangled inside them
Can be mistakenly taken as a trash item
Difficult to secure once emptied; may be blown away before retrieval

Brush and branches must be placed in a container or bundled. Bundles must be tied securely with twine.
Do not use cardboard boxes as this causes a loading problem for the collectors. Cardboard boxes are recyclable and should be put out with paper, plastic, metal and glass.
Bags, containers, or bundles may not weigh more than 40 pounds each. Tree limbs and branches must be less than 4 feet in length, with a maximum branch diameter of 4 inches.
Bags must be closed securely. Do not use wire or metal ties.
Christmas trees must be free from all lights, ornamentation and tree bags. Only natural trees will be collected. Tall trees should be cut in half in order to fit into the collection truck.
Do not mix trash with yard waste.
To avoid odors, do not bag your yard waste more than a few days in advance of your collection.
There is no limit to the amount of yard waste you can put out for collection.
Yard waste is collected at the curb all year round.
Natural garland, wreaths, and Christmas trees are yard waste. They are chipped into mulch, a valuable soil covering.
Please remove tree stand, tree bags, lights, metal ornament hangers, and all decorations. Cut very tall trees in half so that the tree will fit into the contractor's truck.
Natural garland, wreaths, and Christmas trees will be collected on your collection day.
Yard waste is collected at the curb on your collection day all year round. 
Put your natural garland, wreaths, and Christmas trees at the curb before 6:00 AM on your collection day or bring your items to any one of our Recycling Centers.
As a homeowner, you can reduce the amount of yard waste at your home by composting. Composting is a natural process that turns organic matter into a dark, rich, and crumbly substance called humus, an excellent soil supplement. About 29% of residential yard waste can be composted - grass clippings, leaves, brush, and other material from the yard, as well as most food scraps.
Composting has several benefits:
Prevents useful material from your yard and kitchen from being wasted in a landfill
Reduces the amount of material being landfilled
Reduces yard work and the expense of store bought soils and fertilizers
Enhances the growth of flowers, vegetables, shrubs, and houseplants.
Replaces nutrients in the soil, improves moisture retention, moderates temperatures, controls weeds, and decreases soil erosion

Backyard Composting kits are normally available for pickup (residential curbside customers only) at the Central Recycling Center, Southern Recycling Center, and the Recycling and Waste Reduction Division (restricted access-must call ahead to 410-222-7951). Kits are not available at the Northern Recycling Center. Click here for facility hours and locations.
Additional information on backyard composting:
Cut it high and let it lie! The Environmental Protection Agency recommends leaving grass clippings on your lawn rather than collecting and bagging them to reduce the amount of waste that is collected and processed. Grasscycling enhances the natural health of your lawn. Grass clippings increase the soil's organic matter, along with its ability to retain moisture and nutrients, resist erosion, and maintain cooler temperatures during the summer. Clippings should be no more than one inch long in order to fall through the grass into the soil.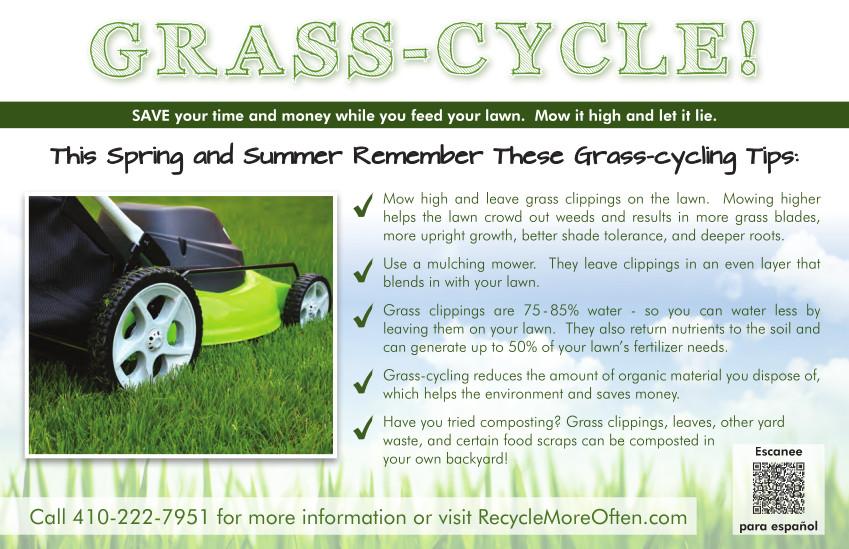 Use small branches as kindling.
Mow high and regularly - spend less time on yard work and eliminate the chore of bagging. Clippings return nutrients to the soil that makes your lawn green and healthy. Grass clippings do not cause thatch. 
Compost flowers and vegetables with leaves and grass clippings. Compost helps keep the soil moist, cuts down on weeds, and helps keep the soil from getting too hot or too cold. 
Cut back on the expense of fertilizers and topsoil by composting at home. 
Select trees, shrubs, and grasses that thrive under local weather and soil conditions or slow-growing plants for less pruning and trimming.