Fort Smallwood Park Construction
Starting September 5, 2023, the eastern half of Fort Smallwood Park will be closed to the public for park improvement projects. The swimming beaches and fishing platforms along the rock armament will be closed to the public through the Spring of 2024. The park's boat ramp area, fishing pier, playground, and pavilion will remain open. Parking will be limited and expect entrance delays into the park on weekends.  For more information on the park closure please call 410-222-0088.
About the Park
Fort Smallwood Park's recreational amenities include a 380-foot fishing pier, children's playground, historic gun battery and barracks, walking trails, beaches and pond. Fort Smallwood was a sea coast defense built in the late 1880's to the early part of the 1900's. The fort was in use from 1890 until 1927. 
 
The 380-foot "Bill Burton Fishing Pier" is wonderful for fishermen, birdwatchers, and admirers of local scenery. The historic Cedar Pavilion is available to rent for groups up to 100 people. Fort Smallwood Park offers an accessible playground that hours of fun for children of all ages.
---
General Information
Fort Smallwood Park is open 7 days a week from 5:30 a.m. to dusk. 
Our park office is open to the public Monday - Friday, 9:00 a.m. - 3:00 p.m. The park office is closed on Saturdays, Sundays and Holidays.
Daily Entry Fees
Daily Pass:
$6.00 per vehicle
Daily Pass - Physically Challenged:
$5.00 per vehicle (MVA handicapped tags or hanging permit required)
Daily Pass - Service Connected: 
Free per vehicle (Military Individuals, Veterans and their Families - Services connected I.D. required)
Annual Passes
Annual Pass - AACo Resident:
$30.00
Annual Pass - Non-County Resident:
$40.00
Senior Pass - 60 and up:
$40.00
Daily Parking Fee - Buses (schools only):
$30.00 (School buses only free with pavilion rental)
Get your 
Daily Pass, Annual Pass or Senior Pass
 at one of Anne Arundel County's regional parks (Downs Park, Fort Smallwood Park, Kinder Farm Park, and Quiet Waters Park) at 
YourPassNow.com
. All passes at our regional parks can be purchased here prior to arriving at the park. With an annual pass you may explore and enjoy the four regional parks as often as you'd like for a single annual fee. Passes for regional parks are also available for purchase from the park gatehouses.
Vehicles entering the park must either display a valid annual/senior pass or pay the daily pass fees. The annual permit is a small sticker which is permanently affixed to the driver's side front bumper of the vehicle, drivers side window or the inside frame of the driver's side door. Persons age 60 and over may obtain a senior pass which is a card that must be shown along with valid ID to gain vehicle entry. A pass is valid for one parking space at a regional park and are not transferable. 
 
Replacement Permits: $3.00 per vehicle  
If your vehicle is sold or involved in an accident and the current year parking permit sticker needs to be replaced, remove the parking permit sticker from the vehicle and return it to the park office to receive a replacement. Replacement senior passes are also available in the event of loss or significant damage. Applications for replacement senior passes must be obtained and submitted to the park where the original pass was purchased.
---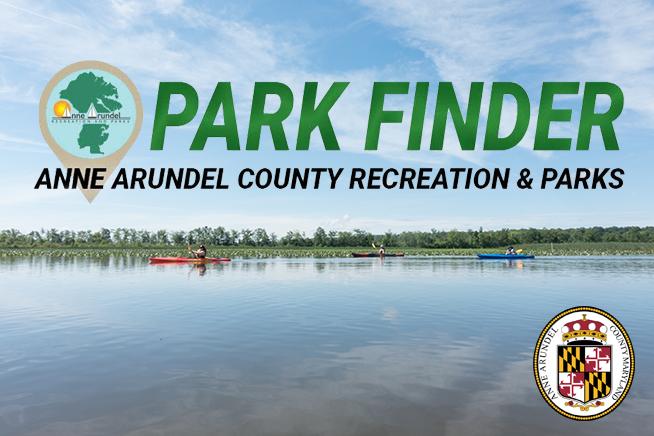 Discover and Experience Anne Arundel County!
Discover regional and commpunity parks, trails, natural areas, historic sites and water access. Find parks by name or by type of activity or parks near your home.