What is a watershed and why is important?
A watershed is a land area that captures rainfall and other precipitation and funnels it to a particular body of water. When it rains in a watershed, the runoff flows downhill to a creek, stream, or river. All of the runoff ends up in nearby waterways without prior treatment in many cases. Since stormwater comes into contact with litter, gasoline, oils, brake pad dust from our cars, pesticides, waste from our pets and many other toxins along its journey, stormwater is a significant source of pollution to our waterways. In fact, all of Anne Arundel County's waterways are considered "impaired" because of excessive levels contaminants, largely a result of untreated stormwater runoff.

Land uses play an important role in how pollution ends up in our waterways. Impervious surfaces such as roads, building footprints, parking lots, driveways and other hard surfaces prevent rainfall from seeping into the ground, resulting in the potential for large volumes of stormwater to run off more rapidly and more directly into our local streams and rivers. Pollutants carried with this runoff reduce water quality and negatively impact stream health. Research shows that as the impervious surface area in a watershed increases, the ecological integrity of surrounding streams deteriorates.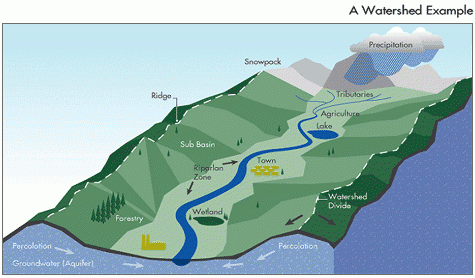 What is my watershed address?
Anne Arundel County consists of 12 primary watersheds and hundreds of sub-watersheds and all of them discharge directly into the Chesapeake Bay. Therefore, the activities that occur in Anne Arundel County have a direct impact on the Chesapeake Bay.

The Bureau of Watershed Protection and Restoration utilizes a watershed based approach to restoring and protecting our waterways. Assessments are conducted on each primary watershed to evaluate land use, water and habitat conditions, establish priorities and goals for improvement and take actions designed to restore and protect our water.

If you know which watershed you live in, click on the name below. Otherwise, if you don't know which watershed you live in you can use the interactive map below to search your address and determine which watershed you live in.