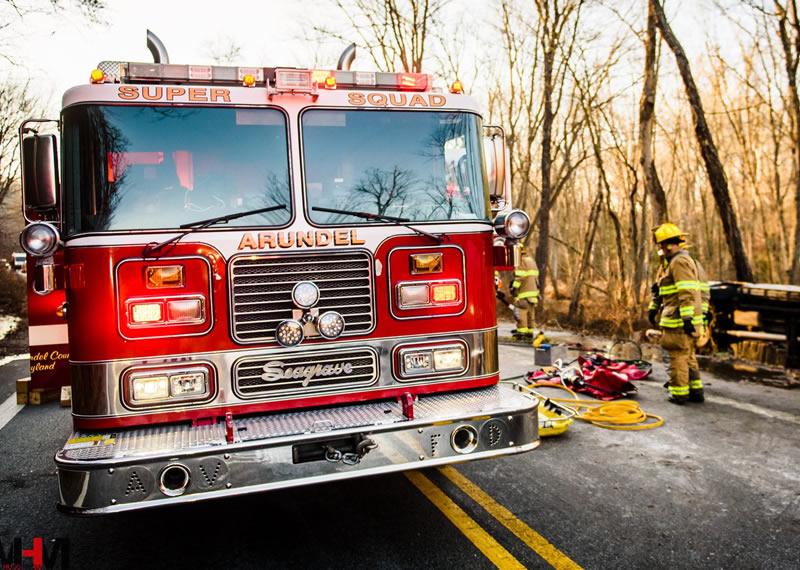 You Can Make a Difference
Welcome! Congratulations on taking the first step in showing your interest in becoming an Anne Arundel County Volunteer Firefighter! The Anne Arundel County Fire Department is a combination fire department that provides fire, rescue, and EMS services to the residents and visitors of the County. There are many ways you can make a difference as a volunteer including firefighting, EMS, administrative services or with the Anne Arundel County Alarmers.
A Message from the Chief
Within this page, you will find the necessary information on what it takes to become a firefighter or EMS provider. Keep in mind this process takes time, effort and hard work. With the right motivation, you can be on your way to serving your community in the front lines.
For more information on how to become a volunteer member, contact our Manager of Volunteer Services, or visit your nearest volunteer firehouse. You can speak to the company membership person and fill out your application.
I wish you the best of luck on your future as a first responder. I look forward to seeing you in the station or out on the streets serving our community.
Welcome to the team!
Chief Wolford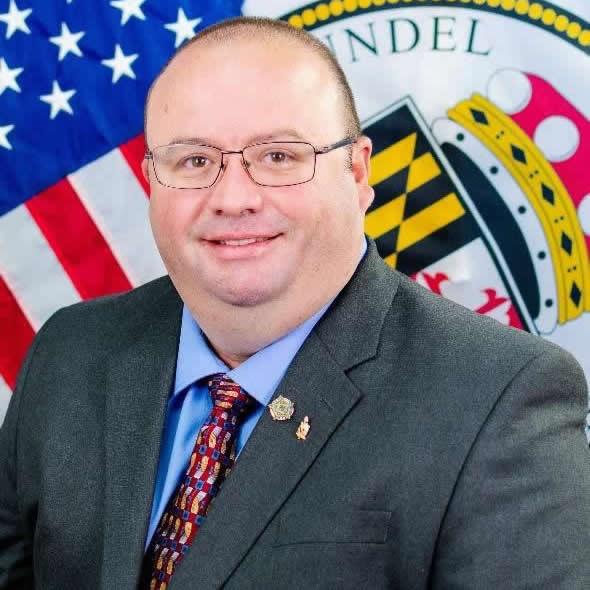 Manager of Volunteer Fire Services
---
Prospective Volunteers
Congratulations on deciding to join the volunteer fire service. Here are some things to expect after filling out your application and being voted in as well as approximate time frames.
 
From filling application to being voted in
The time this takes depends on the time of the month you apply since company meetings are usually once a month.
After being voted in:

You will receive a Volunteer Physical Packet and a CDS form (drug test form).

The results from your physical and drug test can take up to 30 days to come back so the earlier you take your physical the better.

Fingerprints:

The fingerprinting process takes no more than 20 minutes, however getting results back from State and FBI records can take up to 30 days.

You can start taking courses the moment you are voted in and while your physical exam, drug test and fingerprints are being processed.
For firefighting volunteers you must complete the following courses before you can ride:
Firefighter I – 108 hours
Haz-Mat Ops – 36 hours
AED/CPR – 8 hours
Blood borne Pathogens Class – 2 hours
NIMS 200 and 700 – Online
---

For EMS volunteers you must complete the following courses before you can ride:
EMT – B – 165 hours
AED/CPR – 8 hours
Haz-Mat Awareness 6 hours OR Haz-Mat Operations – 36 hours
NIMS 200 and 700 – Online
Yes, all members must be at least 16 years old.
Courses are usually offered as evening and weekend courses in order to accommodate work schedules. Classes meet 3 times a week and are divided in three hour blocks. So a 108 hour course can take up to twelve weeks to complete.
Yes! Participation at the firehouse is much more than responding to calls. The membership person at your station can guide you on other ways to help, company activities, fundraisers, learn about the apparatus in your station or simply socialize to meet your fellow firefighters.
Each firehouse has different membership and application fees. Once you are a member all training courses and equipment needed is provided to you at no cost.
No. Some companies have badges for dress uniforms but are only used for formal occasions.
Form the moment you apply it, depending on course availability it can take up to 6 months to meet all the requirements to ride any apparatus. However you are welcome to participate in all company functions and in house trainings that your station may offer.
As a new member you will have to take a drug test, physical and fingerprint based background check. All these are provided at no cost to you.
Volunteer stations do not provide any type of daycare. Volunteers need to make their own arrangements for hen they are in class or want to come ride at the firehouse.
Yes, all the required courses for fire and EMS are offered in the evening most taking place a few days a week from 7 to 10 PM.
There are many ways you can help, all volunteer companies have administrative members that can help with fundraising, membership, logistics and general management of the firehouse. There is also the Anne Arundel Alarmers that respond with a canteen unit to help with food and refreshment in large incidents.
Each case is different. For EMS certifications contact MIEMMS for reciprocity request. Fire and rescue certifications will be reviewed case by case but the county accepts PRO Board and IFSAC certifications.
Yes, all new members need to be fingerprinted regardless of current or prior clearance status.
All current and future administrative members are required to have a criminal background check. It is the responsibility of each Volunteer Corporation to ensure these backgrounds are completed and to select which service provider to use. 
In order to facilitate the process Chief Wolford has provided the following option for volunteer corporations. This is the same company that does background checks for County Parks and Recreation as well as other County agencies. 
The fire department DOES NOT endorse any specific background check company. It only provides this particular one as an affordable option. All administrative volunteer members have until March 31, 2022 to complete and submit.
Completing the Background check process:
Go to https://justone.ebiinc.com/c/p/unsolicited_portal?guid=l2sKzyvhiUK7dqK7cjlexpGpLHKpBQYV
It may take a bit to load as it is a secured site. You should see the welcome screen. Read the instructions and click the green "continue to next step" button. 
Notice the green "English" button on the lower right corner. You can use this to change the language setting of your preference.
Enter all your demographics information in the next screen. When finished click the red "continue to next step" button. Items in red are REQUIRED information.

The next screen will give you information about the authorization forms you are about to view and sign. Read the pertinent information and click the green "click to next step" button.

The next screen will bring you to a list of four (4) different documents authorization forms, click each, read and click the "save as reviewed" button or digitally sign as required. When all forms are completed it will load the following screen. Click on the green "continue to next step" button.

The final screen will be the Payment Screen. The total cost for the service is $7. It can be paid with any major credit/debit card. Enter the required information and click the green "Submit Payment" button. Once submitted the page will load an Order Completed form and you will receive an email confirmation. Keep that email for future reference.
This completes the process to request a background check. When you receive your receipt and confirmation email, please ensure to keep a copy for your records and provide one copy to your volunteer organization. Keep in mind it can take up to two weeks for the Manager of Volunteer Services to receive results.
The results of the background check will be emailed directly to the Manager of Volunteer Services. If any member comes back with a criminal history the member will receive a notification. The Volunteer Chief and President of the organization will be copied on the notification. Next steps will be at the direction of the Chief of Department and the Volunteer Company leadership.  
As stated in the beginning, this is not the only background check that is acceptable, companies are free to select whichever provider they prefer. That being said, it is the responsibility of each company to keep an accurate record of all admin member background checks in case they are ever needed and/or audited  in the future. If a background company, other than the one mentioned above, is utilized for background checks then a copy of the completed background should be emailed to Antonio Alvarez,
---
Antonio Alvarez, MS - Manager of Volunteer Fire Services