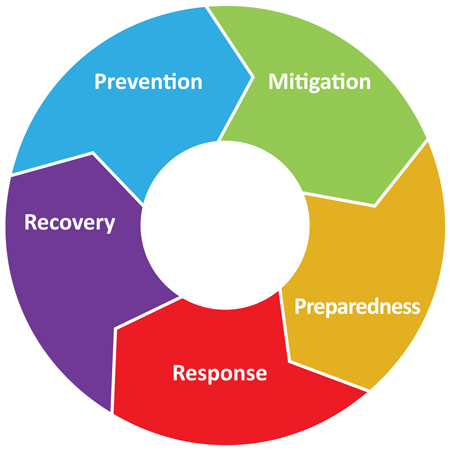 There are five phases of emergency management including prevention, mitigation, preparedness, response, and recovery. Both prevention and mitigation efforts aim to reduce the potential damage and suffering that disasters can cause.
---
Prevention Phase
The prevention phase focuses on disasters and emergencies that can be prevented by changing or regulating human behavior. In other words, we work to ensure people's actions don't cause disasters. Not all disasters can be prevented like weather emergencies, but there are steps that everyone can take to help prevent other types of disasters such as fires or car accidents. Individuals, communities, and businesses can help prevent some disasters with the following tips: 
Individuals
Follow safety instructions from local authorities. 
Regularly check smoke detectors and carbon monoxide detectors to make sure they are functioning properly. 
Ensure that all electrical installations are up-to-date and that cords are not frayed or overloaded. 
Maintain and store hazardous materials in accordance with safety instructions.
Communities
Create a neighborhood watch 
Request a community preparedness presentation to learn about the hazards that affect your area
Organize regularly scheduled emergency drills and practice exercises with all community members.
Implement measures to reduce risks associated with natural disasters such as building codes, land use regulations, and zoning restrictions.
Businesses
Ensure all staff are trained to use equipment.
Regularly review safety procedures
Organize regularly scheduled emergency drills and practice exercises with all staff members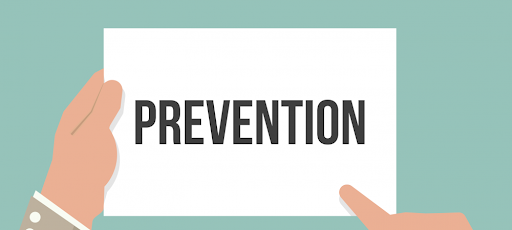 ---
Mitigation Phase
For emergencies that aren't preventable like natural disasters and weather emergencies, the mitigation phase focuses on reducing the impacts of these hazards on life and property. For example, installing flood gauges and informing residents about how to prepare for floods can help minimize flood-related injuries, deaths, and damage to homes. Mitigation measures can also save individuals, communities, and businesses a lot of money as they reduce the amount of damage and therefore the cost of repairs after disasters.
Anne Arundel County's Hazard Mitigation Plan creates a long-term strategy to reduce the costs and damages caused by disasters. The plan also establishes partnerships between governments, non-governmental organizations, private organizations, and communities. This helps to create more resilient communities and reduce the costs of disaster response and recovery.
Individuals, communities, and businesses can help reduce the effects of some disasters with the following tips: 
Individuals
Create a plan for you and your household.
Sign up for Emergency Alerts.
Purchase flood insurance and make sure you have adequate coverage to protect your belongings.
Consider elevating or relocating structures out of the floodplains.
Secure shelves, water heaters, and heating fuel tanks to nearby walls.
Communities
Advocate for hazard mitigation projects.
Start discussions with local officials about installing, re-routing, or increasing the capacity of storm drainage systems and installing or upgrading stormwater pumping stations.
Clean and monitor storm drains for debris or blockages.
Create a rain garden; a planted depression in the landscape that collects and allows rainwater runoff from hard surfaces to be absorbed by native plants.
Install backup generators for key community resources.
Identify safe locations in community buildings to shelter in place.
Businesses
Work with local government officials to advocate for hazard mitigation projects.
Plan for how you would evacuate or shelter in place your staff and customers at your establishment. 
Regularly inspect and maintain emergency and safety equipment.
Secure data and files.
Reinforce work safety practices.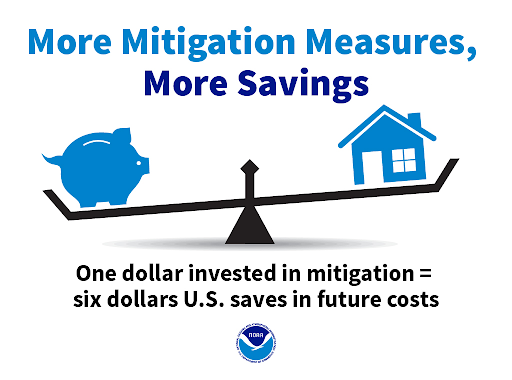 ---